Welcome!
We are reopening on the 6th of July. Of course, we can't just do everything the way we used to - there have been some changes, for the safety of us all:
For now, we're only accepting groups from a single household / bubble (two bubbles for Crazy Cat Lady). As soon as we're able to safely take in larger groups, we'll let you know.
Everyone (you and us) needs to wear a face covering. Think of us as a bus stuck in traffic, but with puzzles :)
You'll have your temperature taken as you enter. It's non-contact, and only takes a second.
You'll need to wash your hands with soap as soon as you enter, and before you leave (which isn't exactly a change, as we were doing that in March). We've come up with some suggestions to sing other than Happy Birthday though :) There is gel in the games if you want it.
You will not be allowed gloves. Trying to open a lock with gloves on wouldn't be fun anyway.
We've made a bunch of changes to airflow, extra cleaning, additional spacing between games and many other things which may not be obvious, but keep us all a little safer. If you're interested, we've had nobody to talk to for 100 days, so let's chat :)

Come and see West London's funniest Escape Room Attraction. Bigger, better games situated in the Rotunda in Kingston (map at bottom of the page). Try solve our games in 60 minutes or less, in teams of 2-8 people, while interacting with live actors (and sometimes fake cats)! Thousands of people have played our games, come and experience why! To find out more read below!
Escape rooms are a timed experience with a series of puzzles to escape the room. The puzzles will test your ability to work as a team, think logically and with common sense. We're part of the Know Escape family, and we know escape! Our directors have played hundreds of Escape Games around the world, and advised other companies and organisations on how to design, build and run the most exciting games. We wouldn't let you play anything we wouldn't want to play ourselves, and all of our sets, puzzles and game stories are our own.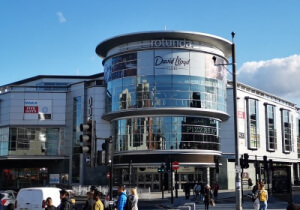 You will find us right at the top of the escalator!
By Road
Satnav Postcode: KT1 1QJ. There is no parking on site, but Canbury Place Car Park (KT2 5AA) and Cattle Market Car Park (KT1 2QY) are both within a few minutes walk.
By Bus
A huge number of buses stop at Cromwell Road bus station (across the road) or at Fairfield Bus Station (a 2 minute walk).
By Train
Our closest station is Kingston station, just across the road. Trains run to Waterloo via Clapham Junction.